Canvas, paintings, mirrors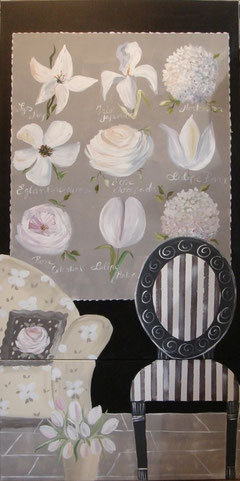 Canvas on wooden frame and mirrors on canvas support.
All our items are painted one by one in our workshop in Toulouse, each piece is unique.
Sylvie Méozzi creates collections, painted the prototypes and then performs the canvas with the help of her collaborators. These are funds, collages and some finishes. Sylvie completes and validates the objects.
Through close collaboration, each object is made ​​with care and looks to the original model. But the drawings are done freehand, which explains the small differences and makes them unique models.
The paintings are created with multiple materials: acrylic paste, acrylic paint, glass cabochons, beads of glass or acrylic sillicone, fabrics, mirrors and broken mirrors, gold leaf tissues, plants, shells, and so on ...

You are a professional contact us for price for retailors contact@boisimage.fr
We can send our products all over the world.
For Japan, we can put you in touch with our exclusive agent.