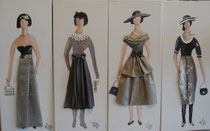 Paintings, painted furniture made to order for you!
Tell us your dreams, we create your painting, your custom painted furniture!
We offer many painting's collections that we can make the colors of your choice. Each painting is unique and hand painted in our workshop in France.
Hand painted furniture for children's rooms, adult, kitchen furniture painted, painted cabinets, painted wardrobes, painted dressers, painted tables ...
Boisimage is on You tube !!